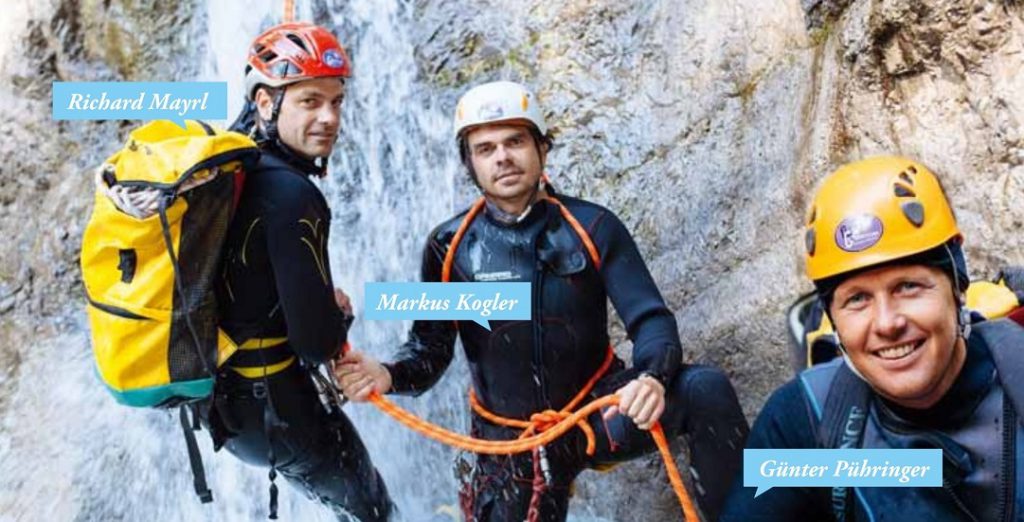 We are the mountaineering school and the outdoor specialist in Fieberbrunn. In one of the most beautiful holiday regions the Pillerseetal in the district Kitzbühel in Tyrol.

For more than 20 years we have been providing accident-free 'FUN' with cool events for young and old. Canyoning, climbing, archery, hiking, mountaineering, biking, rafting, paragliding and much more. With a lot of experience we offer fun and entertainment especially for school sports weeks and corporate events. The own high ropes course offers attractions for beginners and for the brave.
Since 1997 we bring the fascination of the local mountains closer to all who want adventure and action!
Our Team
Markus Kogler vulgo'Kogs'
Markus Kogler (born 10.08.77) is a trained bricklayer and co-founder. He is a fox in climbing sports and known for his unusual ideas, which he realizes unlike many others! Markus is ski school leader of the snow sports school Hochfilzen. He is also co-organizer and boss at the Snowfewer Winter Games in Fieberbrunn. All information about Snowfewer can be found at www.snowfewer.atHowever, he does not fasten his skis until December. From the middle of November, you will go to the ski instructor training. Markus works for the Tyrolean Ski Instructor Association as a trainer. The time left to him in winter, which he uses for his family and … to forge new ideas for next summer, of course!
education
State-certified mountain ski and canyon guide
State-certified ski trainer and ski instructor
Snowboard state teachers
ski school
CEC Canyonguide
Generally sworn and judicially certified expert
Training Manager Alpin ÖSSV
Sporting achievements
Vice World Champion at the Mountain Guide World Championship
2 times Tirol Champion Demoskilauf
2 times Austrian champion in demo skiing
Vice World Champion in the Demoskilauf
Richard Mayrl vulgo 'Rich'
Richard Mayrl (born 09.08.75) is a trained carpenter and founded the company in 1997 with Markus. His specialty is the water. If the two are not on a guided tour, then they build their facilities such as high ropes course and via ferrata.
The Richard is in winter at S4 Snowsport Fieberbrunn. For him, starting in November, the ski instructor training. He is also an instructor at the Tiroler Skilehrerverband. In between, he makes holidays with his family. In winter it can happen that you meet him on the Arlberg or in France during freeriding with his guests.
education
State-certified ski and snowboard guide
State-certified canyon and mountain guide
State-certified ski and snowboard instructor
CEC Canyon Guide
Educator in the Tslv
Sporting achievements
2-time Tyrolean champion in demo ski
2 times Austrian champion in demo skiing
Vice World Champion in the Demoskilauf
Günter Phüringer vulgo 'Gü'
Günter Phüringer lives in Waidring. He is ski school leader of the Snowsports Waidring. His hobbies are skiing, climbing, ski mountaineering, mountain biking, archery and building, golf and motorbike. He spent 6 seasons as a trainer and ski instructor in Australia. From 1999 to 2009 he worked full-time as a ski trainer. 4 years for Liechtenstein and 7 years for Great Britain.
education
State-certified ski instructor
State-certified ski guide
State-certified C-trainer
State-certified canyon guide
ski school
Schwaiger Eva vulgo 'Eva'
Child Carer Family NestsLoves horse riding
Likes to be in nature
Our expert for the little ones
Robert Trixl vulgo 'Robs'
Robert Trixl, b. On 29.8.1960 a full-time soldier works at the Mountain Combat Center as a spit and instructor. That's how Robert turned his hobby into a job. His passion is mountaineering in all its facets in summer and in winter. His other hobbies include cross-country skiing and skiing in winter, running and cycling in summer. With his many years of experience, Robert is a helpful addition to our team.
education
State-certified mountain ski guide
State-certified trainer (general body sport army mountain guide)
Army certified mountain guide
Instructor at Heeresbergführer-courses
Army ski instructor / ski instructor
Instructor in army ski lessons
Sporting achievements
Multiple champion at area championships
Multiple Most at army championships in RTL, biathlon, triathlon
Toni Moßhammer vulgo 'Toni'
Toni is new to our team.
Toni Moßhammer is a mountain and ski guide and one of the top alpinists in the region.
education
certified mountain and ski guide